Visual Studio 2012 Express–Now even better for hobbyists
Sunday September 16 2012 - microsoft, developer, software, software-engineering, visualstudio, free, amateur, hobbyist
For the last decade or so, Microsoft had made its excellent developer tools available for free to anyone with an internet connection. The so-called Express editions have targeted a specific language (C Sharp, Visual Basic) or web development.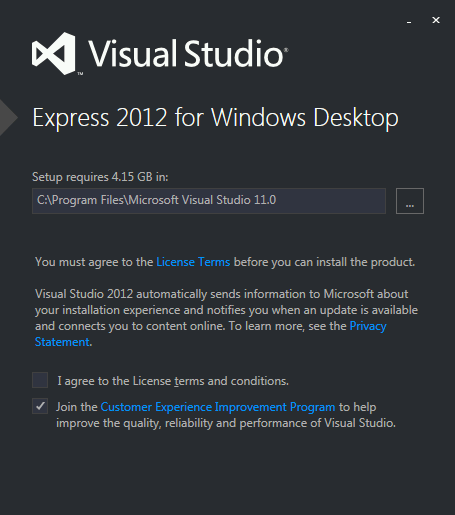 With the release of Visual Studio 2012 last week, the Express editions have changed focus and are now grouped around the development target, rather than the language. Initially, Microsoft announced Visual Studio Express 2012 for Windows 8 and Visual Studio Express 2012 for Web. People soon noticed that Microsoft had no offering for desktop applications. To develop a console application or a Windows Forms application, developers would have to stay on Visual Studio 2010!
Naturally there was uproar and Microsoft finally relented an announced Visual Studio Express 2012 for Windows Desktop. This near-omission by Microsoft does reveal their intentions as to where they want developers to be focussing efforts, but for now at least, Desktop development is safe and is supported equally with the other targets. This new release will be even better for enthusiasts because it includes C#, Visual Basic and C++ together in a single product.
Visual Studio 2012 editions can be obtained from http://www.microsoft.com/visualstudio/eng
One of the down sides of the Express editions is that they don't support plug-ins, so hobbyist developers are denied the benefits of the vast array of wonderful utilities such as ReSharper, dotCover, GhostDoc, VisualSVN and many others. For this reason, I'd highly recommend getting a paid version of Visual Studio if at all possible. Sometimes Microsoft gives away free copies if you attend their launch events, so go along if you get the chance.
Scott Hanselman has a good blog post with lots of links to 5 minute videos covering many of the new features in Visual Studio 2012.
---